Alto Trombone
Alto Studies
Alto Excerpts
Alto Alone
Alto w/Piano
Alto w/Organ
Alto w/Orchestra
Alto in Chamber Music
---
Tenor Trombone


Junior Methods
Studies & Etudes
Orchestral Excerpt Books
Orchestral Excerpt CD-ROMs
Orchestral Parts

Books About Trombone
Brass Textbooks

Unaccompanied Solos
Solos with Piano
Solos with Organ
Solos with Brass
Solos with Percussion
Solos with Electronics
Solos with Harp
Solos with Band
Solos with Orchestra
Accompaniment CDs

Tenor Solo Collections:
Unaccompanied Collections
Collections w/CD (Minus 1)
Collections with Piano
Pop & Rock Collections
Show & Movie Collections
Jazz Collections
Christmas Collections
Sacred Collections
Solo Collections - ALL

Trombone in Chamber Music

---
Bass Trombone
Methods & Studies
Orchestral Excerpts
Orchestral Parts
Duets & Ensembles
Books About Trombone
Brass Textbooks
Unaccompanied Solos
Solos with Piano
Solos with Organ
Solos with Brass
Solos with Band
Solos with Orchestra
Solos with Jazz Band
Solos with Percussion
Solos with Electronics
Bass in Chamber Music
---
Recordings
Trombone CDs - All
Alto/Tenor Soloists
Jazz Trombone
Bass Soloists
Trombone Ensembles
Music Minus One
Accompaniment CDs
Trombone Ensembles
Trombone Duets
Trombone Trios
Trombone Quartets
Trombone 4tets w/Piano
Trombone 4tets w/Organ
Trombone Quintets
Trombone Sextets
Trombone Septets
Trombone Octets
Trombone Choirs (9+)
Bass Trombone Ensembles
Bones N Rhythm
4 Trombones w/Rhythm
5 Trombones w/Rhythm
6 Trombones w/Rhythm
7 Trombones w/Rhythm
8 Trombones w/Rhythm
9+ Trombones w/Rhythm
---
Brass Ensembles
Horn Band Scores
- NEW
Brass Duos
Brass Duos w/Piano
Brass Duos w/Organ
Brass Trios
Brass Trios w/Piano
Brass Quartets
Christmas Brass Quartets
Brass Quartets w/Organ
Brass Quintets
Christmas Brass Quintets
Brass Quintets w/Piano
Brass Quintets w/Organ
Brass Quintets w/Percussion
Brass Quintets w/Organ & Perc
Brass Quintets w/Rhythm
Brass Quintets w/Band
Brass Quintets w/Orchestra
Brass Quintets-CB Series
Brass Sextets
Brass Septets
Brass Octets
Brass Octets w/Organ
Brass Octets w/Percussion
Brass Octets w/Organ & Perc
Brass Choirs
Brass Choirs w/Organ
Brass Choirs w/Percussion
Brass Choirs w/Organ & Perc
---
Jazz Materials
Jamey Aebersold Play-Alongs
Hal Leonard Play-Alongs
Other Play-Alongs
Jazz Studies
Fakebooks
Jazz Collections - tbone
Jazz Collections - bass clef
Trombone
Accessories
Tenor Mouthpieces
Bass Mouthpieces
MOUTHPIECE CHARTS
Tenor & Alto Mutes
Bass Mutes
Tenor Cases & Bags
Bass Cases & Bags
BAG & CASE CHART
Leather Guards & Grips
LEATHER GUARDS CHART
Trombone Stands
Trombone Lyres
Trombone Slide Lubes
Valve & Tuning Slide Lubes
Trombone Cleaning
Brass Cleaning
Replacement Parts
Other Tenor Accessories
Other Bass Accessories
---
General Accessories
Breathing Aids
Metronomes
Electronic Tuners
Music Stands
Manuscript Paper
---
Trombones
If you purchased your horn elsewhere, you may have paid too much!
Soprano Trombones
Alto Trombones
Tenor Trombones
Bass Trombones
Bach Altos & Tenors
Bach Bass Trombones
Bach Trombone Info
Conn Altos & Tenors
Conn Basses
Conn Trombone Info
Courtois Altos & Tenors
Courtois Basses
Courtois Trombone Info
Eastman Tenors
Edwards Tenor
Getzen Tenors
Getzen Basses
Holton Tenors
Holton Basses
King Trombones
King Trombone Info

Trombones IN STOCK*

* as of last web update
---
Auditions &
Competitions
ITF—Solo & Ensembles
American Trombone Workshop
---
Links
(opens in a new window)
ITA Homepage
Online Trombone Journal
Eastern Trombone Workshop
Southeastern Trombone Symposium
Doug Yeo Page
Trombone Page of the World
Getzen Trombones at Hickeys Music Center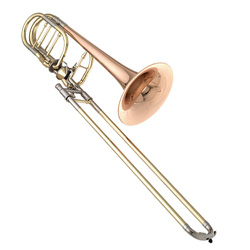 Hickey's is an authorized dealer for Getzen trombones. Built from the same DNA as the Edwards line, these 100% American made instruments are world-class professional instruments built to the same exacting standards as the Edwards line. We stock small and large bore tenor trombones, plus bass trombones. Models not in stock are always available on special order.
---
Bach ARTISAN
Trombones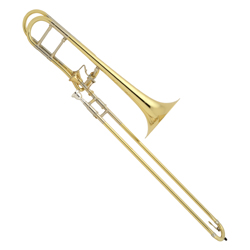 Bach's A47 Artisan collection consists of three basic instruments built on a modular design. This allows the player to easily swap out parts for optimal playing characteristics. Each instrument is comprised of four interchangeable modules: handslide, valve section (or straight pipe), main tuning slide and bell flare. Some of the options available in this series have never been available on a Bach before, including the Artisan bell flare, reversed main tuning slides, the La Rosa valve and more.
---
We've Got Trombones
In Stock. Play Tested.
Inspected. Ready to Ship.
Free Shipping! Learn More
Browse In-Stock Trombones

---
Your pBone
Headquarters


At Hickeys we stock pBones in all available colors, including pink, white, black, red, orange, yellow, green, blue and purple.

---